FIREPLACE FINESSE SHOWROOM
We welcome you to our beautiful showroom that boasts an extensive selection of fireplaces, stoves, gas, and electric fires. We take pride in our friendly, professional service and our knowledgeable team are always on hand to help you find your ideal fireplace. Our showroom is located on Manning Road, Bourne.

Three friends recommended Fireplace Finesse and I'm pleased they did!
We visited Fireplace Finesse back in the summer and elicited a survey from Mark when moving into our new home. The showroom has some lovely displays and we chose a beautiful fire and surround. Once the chimney was opened Paul the fitter felt it wouldn't look right and advised a  rechoice based on our measurements .
After some patience waiting for limestone Paul has fitted the fire beautifully, having removed our old dated one and we are thrilled with the result. Some companies of lesser measure may have carried on with our first choice with a less pleasing result but the company took the time for us to get the right decision. Paul was reassuring and helped our confidence in knowing the fit would be right in the end and Mark has kept us updated on contacts. Three friends recommended FF and I'm pleased they did.
From this… to that…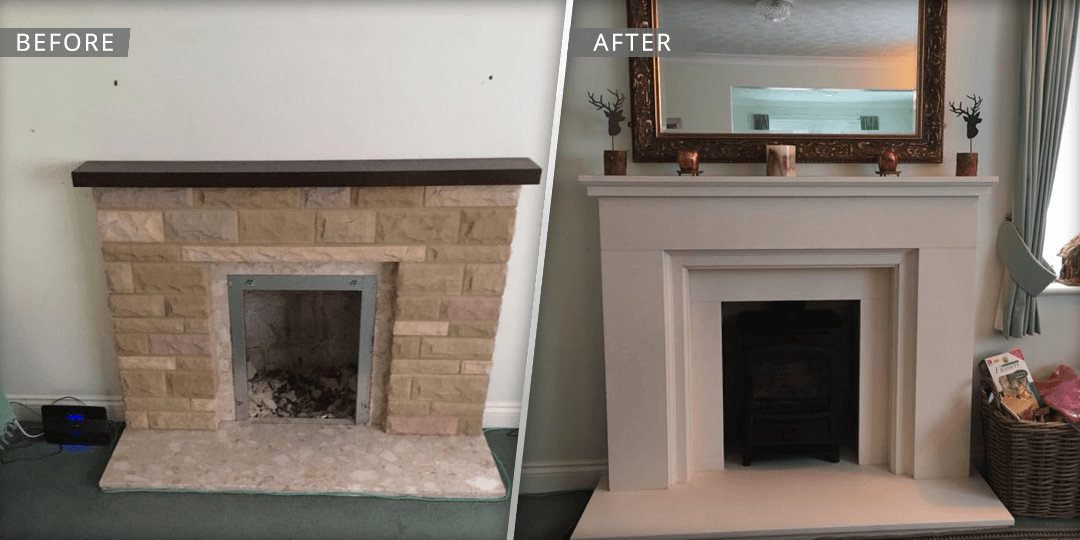 Mary Nina

Highly recommend!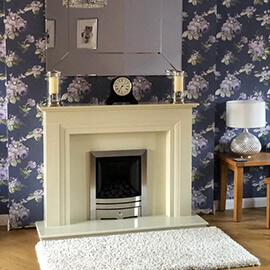 We are very pleased with the service received from fireplace finesse. From start to finish the team were friendly and helpful. Highly recommend!
Katie Doran

Looks stunning!
Looks stunning! Very helpful staff. Thank you Mark for guiding and helping us on every step of the way!
Angelo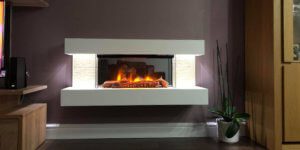 "Ordered a log burner for fitting in a purpose-built room. Mark was able to offer a number of ideas and solutions both at the store and on site visits. We got a professional and attentive service. The fitting by Paul and Wayne was first class. Highly professional and beautifully done, and the few slight problems they encountered on the day were quickly and cheerfully overcome. Follow up has been good too although the lockdown has so far prevented a site visit. I would definitely recommend."
VFR Bore

"A very belated review for Fireplace Finesse, however, I was so impressed with their service that I still think it is important to let everyone know! We had lots of help from Mark and Paul to ensure that we chose the right stove for our fireplace. We are absolutely delighted with the end result and can vouch that after a year of using the wood burning stove we have had no problems. I would highly recommend them."
Clare Alliston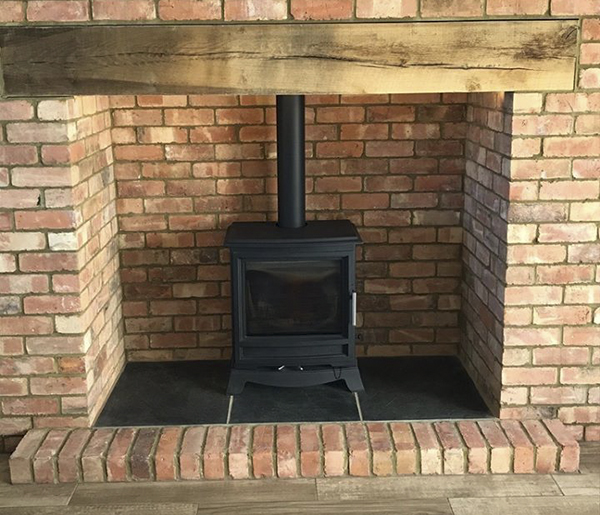 "From the moment we decided to have our fireplace changed the entire process was handled amazingly by the team! From the home visit to assess what we needed, to then being shown the products in the showroom. The fitter was fantastic, very professional and ensured everything was cleaned up before he left. Now that we have finally completed the decoration, the fireplace has transformed our living room into a cosy family room. Thank you all."
Katie Grant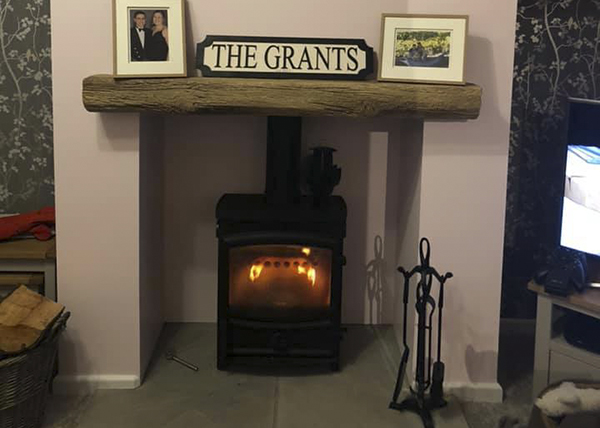 "We are very pleased with the service received from fireplace finesse. From start to finish the team were friendly and helpful. Highly recommend!"
Katie Doran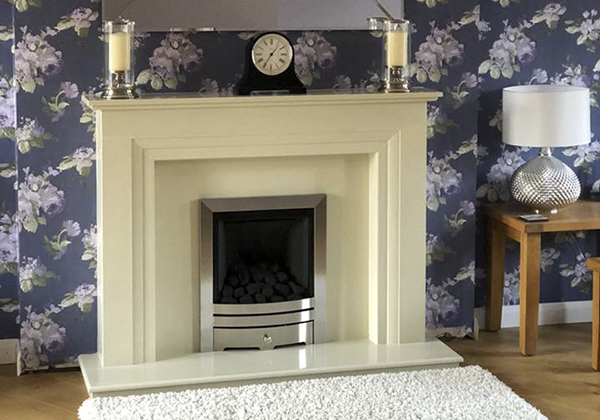 "I would highly recommend Finesse Fireplace. Mark was very helpful, professional and friendly. Paul was an excellent fitter. He worked hard, was friendly and turned up as promised. He left the room clean and tidy. I was very pleased with the service I received and the quality of their work. I would definitely give them 5 stars."
Jenny Rouse

"Excellent job really lovely fireplace. Paul turned up on the allotted day a very clean and meticulous worker. re-installed the wood burner after fitting the hearth, straightened the flue and sealed the top plate. The surround looks exactly as it did in the showroom. not expensive for the class of workmanship and dedication to the job. Well done and thanks for a first class installation."
Christopher Bentley

"We have just had a cleanburn stove and fireplace fitted by Fireplace Finesse and we could not be more impressed. From the moment we entered the showroom we have received friendly and professional advice and service. We knew nothing about wood stoves and when Mark came to do an on-sight survey he advised on what we could and couldn't have so that when we returned to the showroom a few days later, he was able to advise on exactly the type, size and styles available. He was sure to point out the good and bad features of all the products on display in the extensive showroom and we were not rushed as we chose the fireplace, stove, hearth and surrounds. We were then provided with an immediate estimate for our chosen combination, including all work to remove our existing fireplace. Mark took care of the whole project, including booking the chimney sweep, and fitting took two days as forecast. Paul was outstanding, working as quietly and cleanly as anyone could removing an old fireplace and making it twice the size. He made no mess and left the room as clean as he had found it. The finished product is better than we hoped for and from first walking into the showroom to watching our first log burn in our new stove in our new fireplace, took less than a month! Really impressed from start to finish and we highly recommend Fireplace Finesse."
Andy Nelson

"What fantastic people at Fireplace Finesse, we visited the show room, and picked out what we liked, Mark came out and looked at what was required so friendly and professional, within 3 weeks we got a phone call to say it was ready, The two guys who came to fit the fire and fire place took such care covering all our furniture up, to ensure it didn't get too dusty, i highly recommend them to everyone, thank you so much to you all."
Jane Corby

"We had a mantelpiece, hearth and stove installed. We told these guys what we wanted. And they delivered – Giving us exactly what we wanted. We are more than happy to discuss the work FF did for us. Thanks again Fireplace Finesse."
Alex Watkin-Child

"Fireplace Finesse were considerate and helpful from the beginning. I am very pleased with the workmanship involved and the overall finish is to a very high standard. The cost has been competitive and we are very grateful for the whole job to have been completed in a time frame that suited us."
Jeremy Greasley

"Very good service from start to end! Highly recommend their expertise and advice, workmanship was also spot on!!!  I would definitely recommend to friends and family."
Cheryl Scott

"Very polite interested helpful staff the fireplace we chose was fitted within weeks clean tidy workmen love the end result it's gorgeous. Would recommend anytime."
Wendy Judd

"We had a stove and made to measure fireplace fitted and we are extremely pleased with the service we received. From walking into the shop to choose our stove and specially made fireplace to having our stove fitted by a professional fitter. The owner and staff were all very helpful and knowledgeable we were very happy to put our trust in them. We would buy from this showroom again and we highly recommend this shop. A big thank you to everyone at Fireplace Finesse."
Colin Heath

"Very pleased with the work carried out two good trades people very clean and professional company from start to finish would highly recommend."
Paul Glitherow

We recently purchased a woodburning stove from the above retailer. From the initial selection of the stove, through installation and commissioning, we have been very impressed by the professionalism and expertise shown. The installation was carried out in one day, involving cutting a hole in the roof, installing the stove and chimney, and making good. The installation was exactly as specified and carried out to a very high standard by Mark and Paul. As promised it was installed in time for Christmas. The stove has been a resounding success, transforming a cold studio to a warm workable space. The stove is efficient and looks most attractive. In short we recommend Fireplace Finesse without hesitation.
SL and JP

Highly recommend!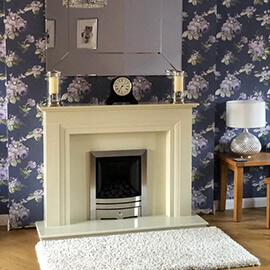 We are very pleased with the service received from fireplace finesse. From start to finish the team were friendly and helpful. Highly recommend!
Katie Doran

Looks stunning!
Looks stunning! Very helpful staff. Thank you Mark for guiding and helping us on every step of the way!
Angelo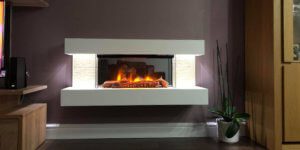 "Really pleased with the advice given pre purchase and help in selecting a fire and fire surround that would be right for us. A good selection of fires to view and help get ideas. Installation clean and tidy. Delighted with our fire, looks amazing. Thank you."
Adrian Riley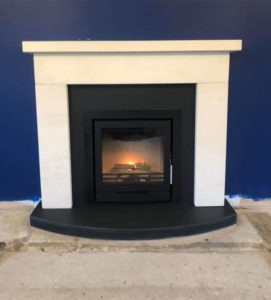 "The quality and service provided by the whole team was first rate, everyone has said the fireplace looks like it has always been there! Thoroughly recommend Fireplace Finesse!"
Jeff Sweeney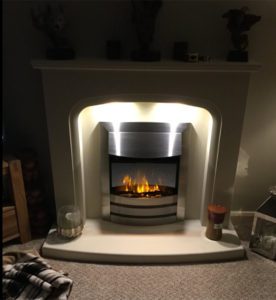 "Our new stove has transformed our lounge. Listed old buildings are always a challenge, our fitter Paul was amazing. Patient, precise and a quality installation."
Sue Hides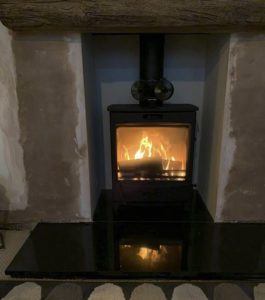 "Great place very clean, and Tim Roberts was very very helpful."
Barbara Phillips

"Professional service and installation. Received two home visits prior to installation and the work was completed to a high standard."
Chris Jackson

"Excellent service. Very pleased with my new hearth. Highly recommend."
Ann Douglas

"Lovely, friendly staff. Professional and reliable. Stunning product with unrivalled service."
Diane Edgoose

"Great price, super fast service. Recommended highly, thank you."
Donna Buckland

"Nice shop with friendly people and a nice range of stock."
Graham Jeffrey
Address:
Fireplace Finesse
Unit 1, Manning Road
Bourne, Lincolnshire
PE10 9HZ
TEL: 01778 424 841
MOB: 07966 491 071
EMAIL: sales@fireplacefinesse.co.uk
Opening Times:
Monday: 9am - 4pm
Tuesday: 9am - 4pm
Wednesday: Closed
Thursday: 9am - 4pm
Friday: 9am - 4pm
Saturday:
By appointment - 9am - 2pm
Sunday: Closed

Fireplace Finesse
Fireplace Finesse, Unit 1, Manning Road,
Bourne, Lincolnshire, PE10 9HZ
PHONE: 01778 424 841
EMAIL: sales@fireplacefinesse.co.uk