SIA ECODESIGN STOVES REDUCE EMISSIONS – IT'S OFFICIAL
The newly published 2019 Clean Air Strategy, which we talked about recently (more info) made it very clear that Ecodesign Ready stoves will play an instrumental role in the government's plans to lower emissions from domestic burning.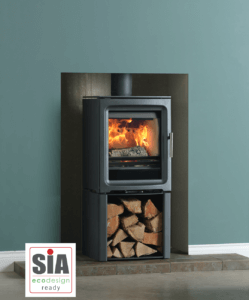 It is estimated that the actions outlined in this Clean Air Strategy, which the government have quoted, could reduce the costs of air pollution to society by £1.7bn each year by 2020, increasing to a staggering £5.3bn every year from 2030.
In the Clean Air Strategy, the government commends the SIA (Stove Industry Alliance) for releasing these high efficiency stoves well ahead of the 2022 target date. After 2022 it will not be possible to sell a stove, which is not Ecodesign Ready.
The purpose of this is to reduce emissions from the home, essentially domestic heating.
Government Statistics:
Until only very recently, a lot of press tarred burning wood with the same brush. However, government statistics have shown that nationally 40% of wood is actually burnt on an open fire, and it doesn't stop there – in London this rises to an astonishing 70%, despite the fact that burning wood on an open fire is not allowed.
The 2019 Clean Air Strategy recognises that all wood burning is simply not the same! AN Ecodesign stove, as we have so many times said, produces 90% fewer emissions than an open fire, and 80% fewer emissions than a stove made just a decade ago.
Educating Consumers:
It's important that consumers are educated about burning wood – to make sure that they maximise the benefits that comes with an Ecodesign Ready stove. That is why DEFRA are putting resources in place to educate and inform. Increasing awareness among homeowners about the importance of only burning wood with a moisture content below 20% and having their chimney swept on a regular basis.
Morley Sage, Chair of the SIA said, "Owners of an SIA Ecodesign Ready stove can be confident they are reducing their carbon footprint and helping to improve air quality, by using the best emissions and efficiency technology available."
View our range of Ecodesign Stoves HERE →